Promoting strong, viable communities for all Minnesotans
As part of NAHRO's Housing America Campaign, a poster contest is held annually for children, K-12, residing in affordable housing and community developments owned and administered by NAHRO member agencies.  Posters reflect the national theme of "What Home Means to Me".  The contest if a collaborative effort of NAHRO's chapter/state, regional, and national organizations.  National honorees are selected from chapter/state-level winner entries.
MN NAHRO encourages NAHRO member housing authorities to hold local contests and send in their winners from each age category to compete in the MN NAHRO contest.  The top three winners in each age category is then sent on to NCRC.  NCRC picks one winner from each category to National NAHRO to compete in the national contest.
National NAHRO holds a national contest to pick the 13 national winners.  National honorees will be selected by a panel of judges assembled by NAHRO staff. National honorees will be announced during Housing America Month in October. All eight NAHRO regions will be represented in the calendar. The grand prize cover winner will also receive an iPad and a framed copy of their original artwork. The cover winner and one legal guardian will also receive a tour of Capitol Hill and attend NAHRO's Washington Conference in Washington, D.C. where he or she will be honored. The 12 national winners will each receive a $100 Visa gift card.
For more information on the process, rules and how to submit your entries, please view the forms below.
Any questions regarding the Poster Contest can be directed to:  Dana Hiltunen, VP of Housing, MN NAHRO Board at [email protected] or (218)735-6309. 
All posters must be submitted to:  Dana Hiltunen, Virginia HRA, 442 Pine Mill Court, Virginia, MN 55792.
Submit Posters to Dana Hiltunen by March 21, 2022
Artist: Kailin Giusti-Brownell from St .Paul PHA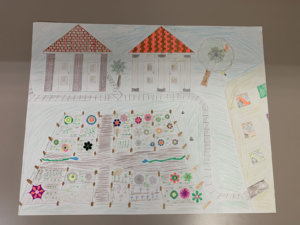 Artist: LillyAnn Marie Haogland from Moorhead PHA